Howl's Moving Castle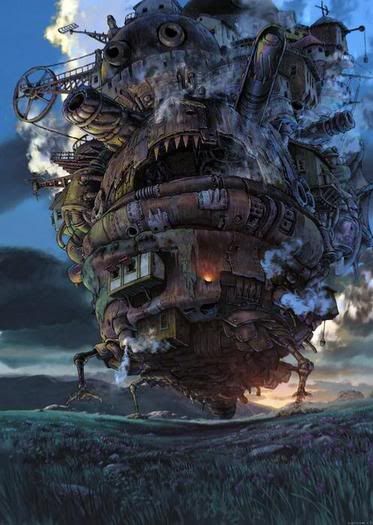 Howl's Moving Castle is a new animated movie by Hayao Miyazaki the director of Spirited Away and Princess Mononoke. Although most people consider Miyazaki's movies to be Anime, I don't really consider it to be such. Miyazaki's movies are far too fluid, and are fairly simular to American animation styles. I would argue that Miyazaki's movies are a perfect match for Disney, they hold a beautiful magic to them that is compatible, while being mature enough that they are probably more suitable to older audiences.
Howl's Moving Castle is probably my favorite of his movies so far. It's really hard to describe the movie without going into a full review, but it's got a wonderfully simple sense of wonder to it, and yet it still feels rooted in a real world. This movie feels like a fairy tale in the traditional sense, one meant for children and yet it will scare the bejesus out of them. But at the same time, the characters, especially the main one, have complex feelings and emotions.
Howl's Moving Castle is due to be out on June 17th, I've already managed to steal the Japanese version of it because I was scared about the English dubbing that will be used in the American release. But I think I may actually go see this in theatre,
it's worth supporting
.
Trailer