Dissociatives: Young Man Old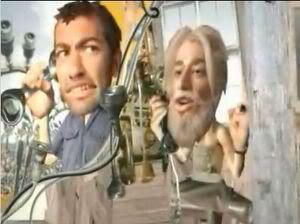 Lately I've been having some major problems with modern music videos. And that's that they're all using this odd Flash, cartoony, paper-like animation, and it's getting tired. It's just plain boring and unoriginal to do the same kind of video that everyone else is using. This is the sort of thing that people 10 years from now will make fun of because it's freakin' stupid.
But I have to say I'm liking this Dissociatives video. They use these big heads, crazy facial expressions and exaggerated eyes and mouths. It's cute, creepy and funny. Thumbs up to your video, now everyone stop using the same stupid animation technique. It's over! Okay?
Link