JetBlue airliner makes emergency landing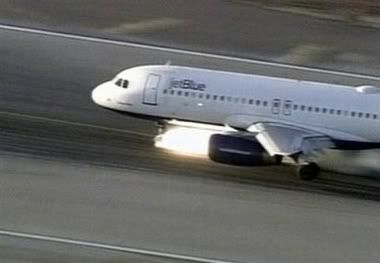 [
Media:
Video]
A JetBlue airliner with faulty landing gear touched down safely Wednesday at Los Angeles International Airport after circling the region for three hours with its front wheels turned sideways, unable to be retracted into the plane.
A couple of days ago one of my friends mentioned seeing this live on TV at a bar. Everyone was watching this take place for hours, nervously hoping that the plane would land safely. It's strange, to see an entire country (or two), all watching the same event.
Luckily the plan landed perfectly
and nobody was hurt. Thank goodness for well trained pilots!
Link
(via
I Hate My Cubicle
)