Duck from Duck Hunter Made Out of Blocks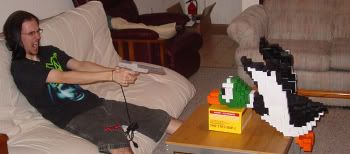 [
Media:
Images]
This guy made a 3D model of the Duck from Duck Hunter and created a model of it out of wooden blocks. He also has plans to hang this duck on the wall along with golden NES zappers.
Blocks used in 3D model: 1785
Blocks used in build: 1240
Approximate Weight: 17-20 ilbs
Length: 24"
Width: 17.25"
Height: 21"
Approximate Number of Hours to Create: 35-40
Pretty sweet, make sure to check out the full pictures after the link.
Link
(via
Waxy
)