Goldfrapp: No. 1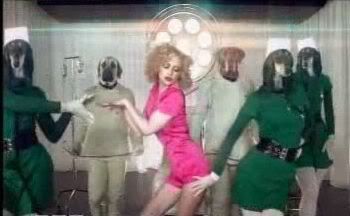 [
Media:
Video]
I'm not familiar with Goldfrapp, but I do like this video of theirs. It's sexy and stylish with a large dash of weirdness thrown in. Only the singer is human in this video, and everyone else has a dog's head upon a human body.
I never thought I'd enjoy seeing dog headed backup dancers in nurses uniforms. The effects are done well enough that I keep wondering how they managed to do it.
On a side note, I am loving the website
Clip Tip
as you may have noticed this past week. Clip Tip is a music video website, and the choices for videos are usually fairly good. My only complaint is that I wish he/she would stop posting Real Player videos. Who the hell wants to use Real Player? Seriously.
Link
(via
Clip Tip
)