HowTo make a Dr Octopus costume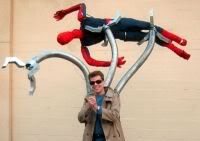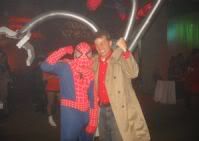 [
Media:
Article]
Take a look at this really funny and detailed account of a man who made a Dr Octopus costume for Halloween. There are a lot of pictures here, showing the making of the costume and the writing is pretty funny. I'm amazed at how long it seemed to take to create the spiderman hanging from Oc's tenticles, I certainly don't have that kind of patience for making costumes.
The DJ took notice and made an announcement: "HAS ANYONE SEEN SPIDERMAN? IT SEEMS THAT SPIDERMAN IS MISSING". This got huge laughs.
All in all though, it looks like Spiderman and Dr Oc can put aside their differences for a couple of pictures.
Link
(via
Boing Boing
)