Lemon Jelly: Nice Weather For Ducks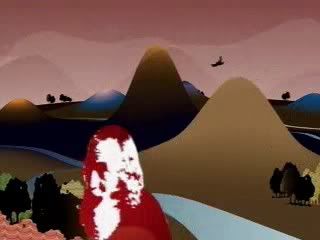 [
Media:
Music Video]
Anyone who has been reading this site knows I have a thing for awful music videos. A couple of examples of this are:
Unicorns LA
My Friend Dario
Russian Dance Contest
Nice Weather For Ducks is a little different though. It has high production values, the animation is pretty good, but it's still a strange beast. The animation has shadow animals, and a Darwinian-like, lava-lamped, flying man singing about swimming ducks. At one point a disco ball breaks out and all the animals and the bearded man bust a move.
Strange? Yes. Totally awesome? Only in my opinion.
Warning: Questionable Taste in Humour
Link