Tack Jhompson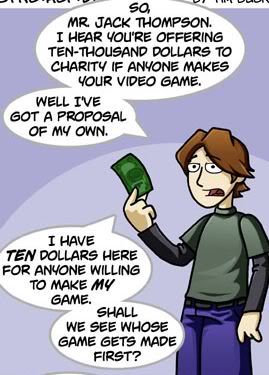 [
Media:
Comic]
CTRL-ALT-DEL has done an open-comic to Jack Thompson, referring to an offer made by
Jack Thompson to donate $10,000 if someone would create his game proposal
[Jack Thompson will] write a check for $10,000 to the favorite charity of Take-Two Interactive Software, Inc's chairman, Paul Eibeler [...] if any video game company will create, manufacture, distribute, and sell a video game in 2006 like the following:

Osaki Kim is the father of a high school boy beaten to death with a baseball bat by a 14-year-old gamer. The killer obsessively played a violent video game in which one of the favored ways of killing is with a bat. The opening scene, before the interactive game play begins, is the Los Angeles courtroom in which the killer is sentenced "only" to life in prison after the judge and the jury have heard experts explain the connection between the game and the murder.

Osaki Kim (O.K.) exits the courtroom swearing revenge upon the video game industry whom he is convinced contributed to his son's murder. "Vengeance is mine, I will repay" he says. And boy, is O.K. not kidding.

O.K. is provided in his virtual reality playpen a panoply of weapons: machetes, Uzis, revolvers, shotguns, sniper rifles, Molotov cocktails, you name it. Even baseball bats. Especially baseball bats.
I recommend checking out the link. I swear, Jack is going senile. Creating a game about video game violence which sounds as violent as Grand Theft Auto? Are we seeing Jack's sense of humour here?
Link