The Weekly Un-Postables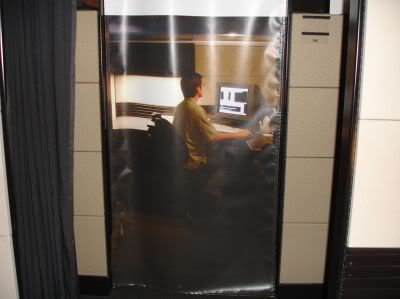 (The "Work Blind" Curtain)
From Boing Boing:
Billion-dollar Robinson Crusoe treasure discovered by robot
Penguins mating in minefield
Giant squid caught on film for first time
Shanghai bans net.slang
Old Daily Show sets auctioned for charity
Playmobil security check point
Miscellaneous:
No Complaints About Manitoba's Video Game Law
Princess Peach Game is Sexist
Shark repellent wetsuit
Gigantic Pink Rabbit
Gigantic Toy Collection
Porn Blooper
- Really Not Safe For Work. If Sex offends you, don't click this, otherwise I think you will laugh really hard.
Reader's Submissions:
Knock On Wood
- Thanks Kyle (my brother). This is pretty cool, but it doesn't fit with the feel of my website. This is a video of a guy playing a double necked guitar.
EFilm
- Heather sent this to me, unfortunately I didn't really understand what I was supposed to look at on this website. It looks like a digital effects studio...