Where's the Geek Porn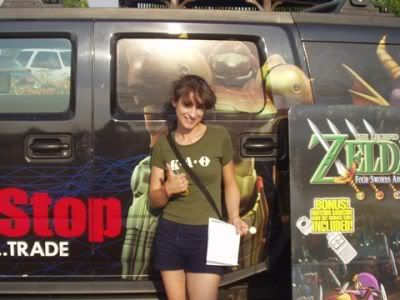 [
Media:
Article]
I really liked this article, talking about why there isn't porn about smart girls, about girls who are big nerds, that are real, that are complex and that are interesting.
You can have the whole cheerleading squad,
I want the girl in the tweed skirt and the horn-rimmed glasses:
Betty Finnebowski, the valedictorian.
Oh yes.
First I want to copy her Trig homework,
and then I want to make mad, passionate love to her
for hours and hours
until she reluctantly asks if we can stop
because she doesn't want to miss Battlestar Galactica.
Suma cum laude, baby!
That is what I call erotic.
The porn industry doesn't pander to what everyone considers erotic, and I completely agree that there should be porn centered around geeks needs, afterall there's pretty much every other kind of porn already. I think there needs to be a
Suicide Girls
for the Geek crowd.
And you can help . . .
If you're an intelligent woman is interested in breaking into the adult film industry, and if you can tell me the name of Luke Skywalker's home planet,
then you are hired.
But the last line made me laugh a lot. Hell, I'd certainly be impressed if a girl knew the answer because even I had to pause and think about it for a moment.
Update:
It seems that this is a transcript of an MP3. You can download it
here
Link
(via
Boing Boing
)