Darth Vader and Yoda Carved From Butter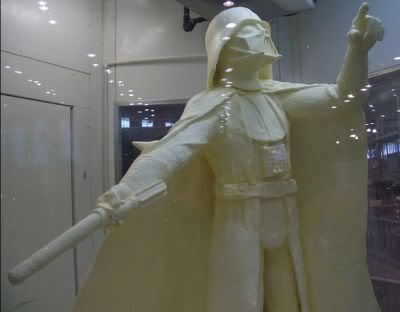 [
Media:
Images]
Check out this life sized statue of Vader, made entirely out of butter.
Each year at the Tulsa State Fair, an artist is commissioned to make a sculpture out of butter. In past years, cows, farmers, and baseball players were created out of hundreds of pounds of butter. This year, in celebration of Star Wars's final episode, TSF is featuring Darth Vader and Yoda, all dairy-like.
1000 lbs. of butter... Wow. Anyway, I will avoid any dairy or cow related puns because I know they'd just be plain awful. Follow the link and check out the Yoda statue as well.
Link
(via
Boing Boing
)