Jinnai and the Bugrom: Hubba Hubba Zoot Zoot!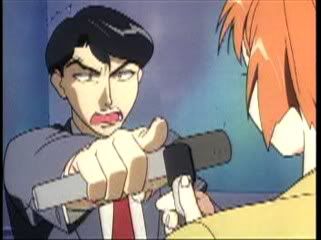 [
Media:
Music Video]
Jinnai and the Bugrom won AMV's
Best Lip Synching for 2002
and it totally deserves it. By using the anime El Hazard and the music from the song Hubba Hubba Zoot Zoot! by Carumba, it produces a very odd and strange experience.
I'm afraid that rather than everyone finding it very funny, a lot of people stared at the video and wondered what on earth I'd created.
The quote above really hits the mark. About half of the people I show this to think it's retarded, and the other half think it's absolutely genius. I of course fall into the later category, and I think it's hilarious, but that depends on the kind of sense of humour you have.
I'll be hosting the video
here
for about a week. If the link disappears by the time you try to download it, you can download it from AMV by following the link below. You'll have to sign up for an account, but you really should have an account on that website anyway.
Warning: Questionable Taste in Humour
Link