Mario Kart Retrospective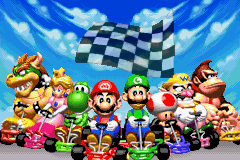 [
Media:
Video]
Take a look at this Mario Kart Retrospective video which goes through the entire series from Super Mario Kart on the SNES to the most recent Mario Kart DS. A little nostalgia for everyone.
And is it just me or does the person talking about Mario Kart Double Dash sound disappointed with the Gamecube offering? I'd say that although I love Mario Kart DD, it's definitely not my favorite. I'd say that Mario Kart 64 was easily the best, but I'm sure that some people out there are going to disagree with me.
As a sidenote, there's a rumour going around that
Target may be dropping the price of the DS to $99 US
for the Christmas season.
Link
(via
4 Color Rebellion
)