Pintlings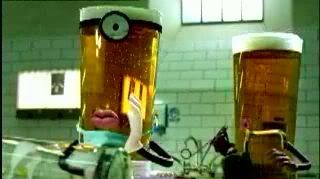 [
Media:
Video]
Take a look at this fantastic stop-motion ad for Tennent's Lager. It's amazing that they used both real-time and stop-motion animation for the same project. The ad also is really funny and has a great sense of humour about how pints must feel about being drunk.
The creative team was reluctant to use CG and since beer (like all liquids) is notoriously difficult to animate frame-by-frame, director Darren Walsh suggested the novel idea of puppeteering actual pints of beer in real-time on a miniature set and then composite in stop-motion animated mouths and limbs in post-production. The result is a really clever blend of puppetry and stop motion that picked up several awards including the public choice award for best commercial at the 2002 British Animation Awards.
More information about the commercial can be found at
Puppetvision
.
Link
(via
Drawn
)