Pixelante T-Shirt Design Contest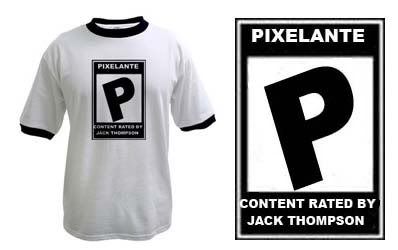 [
Media:
Swag]
Game Politics is holding a T-Shirt Contest to create a better Pixelante shirt design. For those who are unfamiliar with the term Pixelante, it can be described as such:
Pixelante is a term coined by Jack Thompson to describe what he believes to be corrupted members of the computer and video game community, driven to harassment, threats, violence, and other illegal activities as a result of games like Grand Theft Auto and Bully.

Thompson officially defined pixelantes as "sociopaths with mouses," and alleged that pixelantes used "the name of the First Amendment and freedom of speech" in order to threaten him. Thompson also referred to pixelantes as "pimple-faced geeks who use death threats to drive people of faith and with values from the public square," towards the end of his statement.
Go check out the other shirts, there's some other good designs over there, and then vote on your favorite.
Link