Sasuke Costume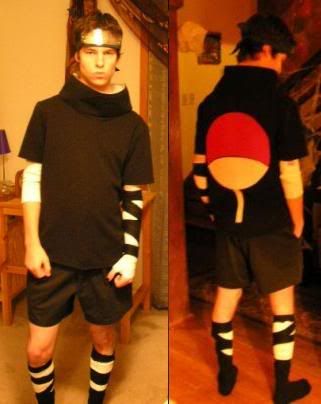 [
Media:
Images]
Well I had a lot of fun making my Sasuke Costume even if I didn't get everything for it that I wanted to. I think that I'll try to complete the costume a little later, by getting a Naruto Dagger and either grow my hair out or get a wig. I also need sandals, but that's all for next time.
I have a number of people I need to thank for helping me out with this costume. Anne helped me acquire a headband, which I owe her a huge favor for. She really went out of her way to get it to me on time for Halloween, and I have to thank her for that. I also want to thank my neighbor Debbie for taking the time to sew my shirt over the weekend. She did a fantastic job, she is fabulous.
You can find a submission of my costume on
Kotaku
(at least it'll be up sometime tomorrow) which is doing a costume contest which has some fabulous entries. Be sure to check it out. Also check out the link to see some other pictures of my costume. I wish they had turned out better, but I think you can see the general idea.
Link