The Sensitive Carpet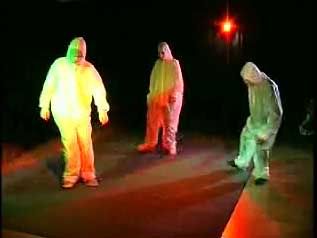 [
Media:
Video]
Take a look at this video. By using a carpet which produces different sounds depending where you're standing, these three bunny suited guys perform a little ditty. They seem to be having a lot of fun with it too.
When a person walks on this carpet switches are triggered everywhere a foot touches the ground. In total there are 48 switches integrated into the carpet. The information collected is digitised and fed into a computer which turns impulses into sound. In the following movie you will see a musical realisation of this concept.
Check out the webpage
Sinua
for more projects that they're working on.
Link
(via
We Make Money Not Art
)