Shigeru Miyamoto Autographed Guitar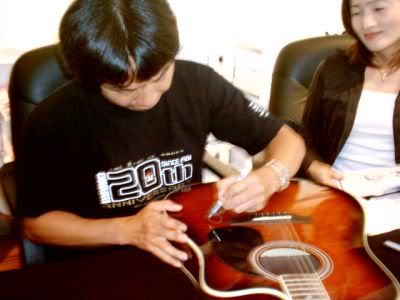 [
Media:
Auction]
Someone is putting up a Guitar up on Ebay which was signed and played by Shigeru Miyamoto. How sweet is that? I'm a pretty huge fan of Miyamoto , as should anyone who loves Nintendo games because he's the designer behind some of the halmarks of video gaming. Is it really nerdy that I knew that Miyamoto played the Guitar?
I have to wonder why the guy decided to sell it on Ebay instead of keeping it. There's a bunch of great pictures after the link, and a bit more information about the auction. It's too bad I'm no musician.
Knowing that Miyamoto plays guitar and banjo, I was intent on having him play my guitar in addition to signing it. As I approached the signing table, I looked back and forth at both Miyamoto and his translator (the woman to his left) as I asked if he could play a little bit. The Nintendo World rep to his right quickly tried to inform me that "unfortunately, there wasn't enough time." However, before he could even finish telling me this, Miyamoto had picked up the guitar, gave it a good look, and then set up to play a few chords. The chords he played? The opening chords to the Super Mario Bros. theme song!
Link
(via
Press The Buttons
)