Sony Rootkit T-Shirts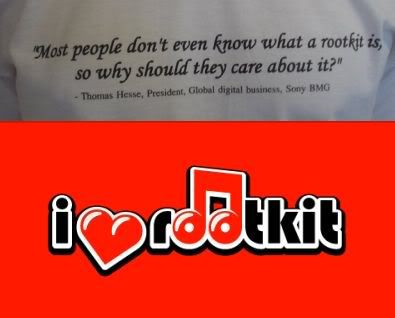 [
Media:
Swag]
I've avoided posting too much about Sony's Rootkit because there's just way too many points of interest to speak on, but I think I need to post a little recap here. I mainly want to point out two T-Shirts that are related to the issue, because of course I love T-Shirts too much for my own good. The first one is a quote directly from a Sony President,
Most people don't even know what a rootkit is
and the other one is a little snarky comment about Rootkit love:
I <3 Rootkit
.
At this point, most people haven't actually heard about the Sony Rootkit issue which is surprising because everyone who listens to music and has a computer needs to know about it. But it looks like the computer science teachers are starting to bring it up in class, and I convinced one of my friends to to a paper on the Sony Rootkit so maybe there's still hope. If you're one of those people who don't know about what Sony's Rootkit does to your computer, please check out the links below from Boing Boing. They've been covering the issue for the past 3 weeks or so and have compiled a bunch of nice roundups:
Part 1
Part 2
Part 3