Stephen King's Dark Tower Comic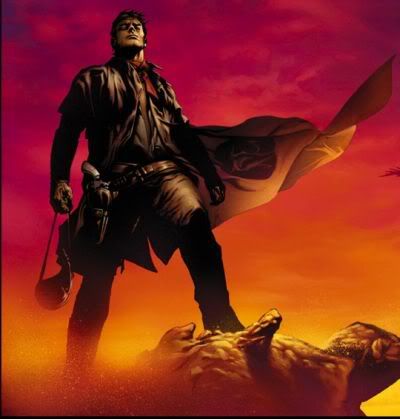 [
Media:
Article]
This is huge news, Steven King's Dark Tower Series is becoming a Comic Book.
World Fantasy Award-winning writer Stephen King, long acknowledged as the master of modern horror, and Marvel Comics join forces this spring to launch a ground-breaking new comic book series adapted from King's magnum opus, The Dark Tower. The first issue is scheduled to debut in April 2006.

The comic series will mark the first time Stephen King has produced original content for an ongoing comic book project. The series will expand the saga of King's epic hero, Roland Deschain, whose quest to save the Dark Tower is captured in seven best-selling novels published over the course of twenty-five years.
Although I'm normally not a fan of Steve King, his Dark Tower Series are a different story. It's too bad that I'm going to have to wait until April before the comics come out, I'll probably have forgotten about this by then. Also, I agree with 4 Color Rebellion here, the colours are too bright. This sort of story deserves dark and moody visuals.
Link
(via
4 Color Rebellion
)