Toronto Pillow Fight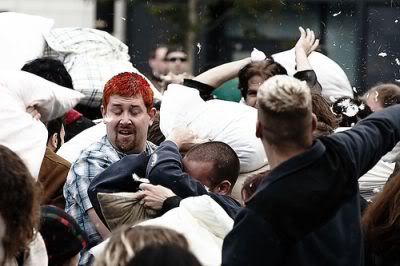 [
Media:
Images]
Check out this Pillow Fight that landed in Toronto on Sunday. Boy, it'd be fun to organize something like that locally.
Soft pillows only! Do not hit anyone who does not have a pillow. Do not hit people who are holding cameras. Swing lightly, there will be many people swinging at once! Remove expensive glasses beforehand. Extra pillows may come in handy. Feather pillows are even more fun. Do not begin until the signal (a referee whistle.) Forward this to fun people!
Another pillow fight of note is a recent
Roman Pillow Fight
. Looks like fun!
Link