Chinas Locas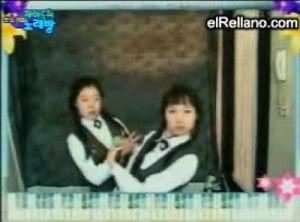 [
Media:
Video]
I'm debating whether this post is a good idea or not, you may think I'm crazy. This is one of those videos where people with a camera, and in this case a Kareokee machine, are making fools of themselves. It's not that they're horrible singers, or even horrible dancers. It's that they're over enthusiastic and incredibly silly.
I think these two girls are hilarious. I've watched it a couple of times and their antics make me laugh. You may entirely disagree with me, but I encourage you to check it out and see for yourselves.
If you liked it (thumbs up to you!), there are two other videos.
Chinas Locas 2
Chinas Locas 3
Warning: Questionable Taste in Humour
Link
(via
Drasl.is
)