The Chronic of Narnia Rap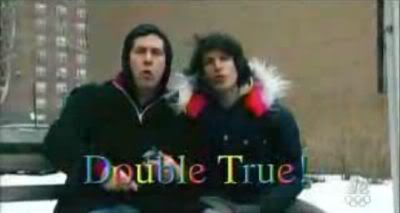 [
Media:
Music Video]
I think we've got an early choice for the weekly favorite. Take the guy from
Lonely Island
and Saturday Night Live and you've got a nerd rap about going to the movie theatre to see Narnia. Along the way they talk about Google Maps, Cupcakes and Movie Trivia. This is hilarious.
As a side note I went to see Narnia last week and I totally loved it. Go see it. But I hate about Narnia's advertising campaign. I've been getting swamped with hits and spam about a Narnia post I made a long time ago. Today I actually deleted the post and the picture in hopes that it would halt the spam traffic that I get.
Update:
NBC took down the original link to Youtube and put it on their site instead. From what I can tell, the video on NBC only runs in Internet Explorer. If you don't want to use IE to view this video you can probably find the video elsewhere by Googling it.
Link
(via
Waxy
)