King's Quest IX: Vivendi Grants Fan License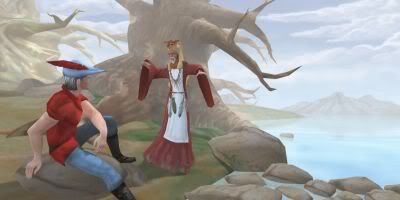 [
Media:
Website]
King's Quest IX has developed an interesting story, luckily it's one with a happy ending. KQIX is being developed by fans and was just about to be released before Vivendi, who owns Sierra and the rights to the King's Quest Franchise, halted the project. But fortunately Vivendi did not cancel the project and instead decided to grant the developing team a Fan License!
After extensive evaluation, Vivendi Universal Games is pleased to announce that the fan developed trilogy project 'The Silver Lining' (previously known as King's Quest IX: Every Cloak Has A Silver Lining), based on characters from Sierra Entertainment's 'Kings Quest' series, has been given approval to continue development. We look forward to seeing the first of its three upcoming chapters, 'Shadows', completed soon.
As a major fan of the King's Quest games while growing up, I find this very exciting. Although I didn't play the entire series, I enjoyed IV, V, VI and VII with number V being my favorite. If you're interested in seeing how King's Quest IX looks, you can download the trailer for King's Quest IX
here
.
Link
(via
Kotaku
)