Loading Ready Run: We're 1337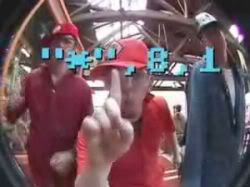 [
Media:
Music Video]
Theresa sent me a tip about a website which makes videos from Victoria BC and while normally such websites don't really impress me, Loading Ready Run has some really great stuff.
The best video that I've seen so far on Loading Ready Run has got to be
1337
which is a Beastie Boys-style music video talking about the history of videogaming. They start from as far back as the Commodore 64 all the way up to the Nintendo DS and Revolution. I also recommend that you check out the
lyrics
which explains some of the more vague references in their song. Hell they even make reference to Jack Thompson and Pure Pwnage!
We're leet, that's e-lite, we're better than you,
From old school blocky to the shiny and new,
In the 70s Atari's twenty-six double-zero,
For the first time ever, anyone could be the hero,
This shit is well done, a thumbs up for them! I'm probably going to make reference to this website in the future because there's really a lot of great stuff on here.
Link
(Thanks Theresa!)