Monty Python Toys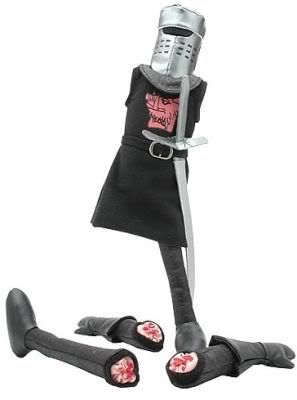 [
Media:
Toys]
Entertainment Earth
is a fantastic online store filled with items one never knew were purchasable. Of worthy note is the Monty Python section which contains the Beast of Argghhh, Killer Rabbit Slippers and Knight of Ni Hats.
My personal favorite though is the Black Knight plush toy. They describe it best:
Monty Python's The Black Knight (from Monty Python's The Quest for the Holy Grail). This item is plush, stands 14-inches tall, and features details from the special world of Monty Python, including velcro assisted dismemberment. Almost Indestructible! Mostly Invincible! Pretty much unbeatable on a good day!
Link
(via
Wonderland
)