Rock God Guitar Poses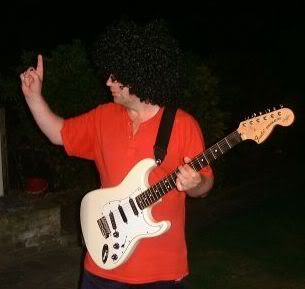 [
Media:
Website]
Now here's a useful guide "Practical advice and hints about how to Pose like a God of Guitar". For everyone who wishes to be a Rock God, without any actual musical ability (like me), this site will teach you all the important ways to appear like you can totally Rock out.
[T]he "cool point" point. You have to take great care not to make this look like "mines a tea guv". You MUST always have no particular reason to point when in a gig. Just make it look as if there is something important going on and point regardless. The fans will love it, and think you are very clever indeed and that you have loads of hidden message and codes to the rest of the band (which you won't have).
Other tips include "How to cue in a solo", "Facial Expressions" and "Playing the guitar with your feet". I only wish they could teach me how to acquire Rhythm, because I don't have that.
Link
(via
The Exploding Aardvark
)