The Year in Media Errors and Corrections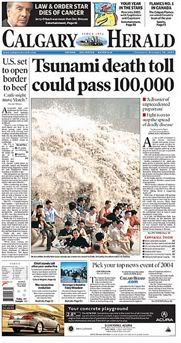 [
Media:
Article]
Since it's nearing the end of the year a lot of "year end" lists are making their rounds, and some of them are definitely worth checking out. One which I've been reading through is Regret the Error's "Year in Media Errors and Corrections". Some of these corrections are humorous, some are just plain amazing in a horrifying sense.
The picture for this post is an example where newspapers started to incorrectly use an image from another tsunami rather than the one in South East Asia this year. But check out the Correction of the Year:
The Denver Daily News would like to offer a sincere apology for a typo in Wednesday's Town Talk regarding New Jersey's proposal to ban smoking in automobiles. It was not the author's intention to call New Jersey 'Jew Jersey.'
Hah. Jew Jersey. I'm sure nobody has ever heard
that
one before.
Link
(via
Waxy
)