CBS: Cyber Athlete 'Fatal1ty'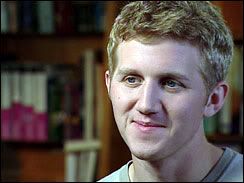 [
Media:
Video]
Although every Blog on the Internet has reported on this already, it's still worth mentioning. Jonathan Wendel, also known as Fatal1ty was featured a couple of days ago on 60 Minutes to talk about the emergence of Professional Gamers. Jonathan Wendel is considered to be one of the best gamers in the World and has won over $500,000 US to date. This is probably the first time that Pro Gamers have gotten exposure in the mainstream news, and for most people this is their first time in hearing about Jonathan, let alone Professional Gaming.
The feature was handled with respect, and Wendel answered their questions in an honest and level headed manner. When asked what he thought about the concern for videogame violence he had this to say:
Well, I don't think it's a bad thing," he says. "I mean you're trying to get the point. Like, I mean, football. Why are you hitting the guy? That's not right. But people will pass it, because that's part of the game.
In otherwords, why is Football considered okay but shooting virtual avatars something completely different?
On a personal note, I was listening to
Pia Shandel on CFUN Radio
this morning and they mentioned the 60 Minutes segment. I've started listening to CFUN because it pisses me off every time I tune in. This morning Pia Shandel critisized gaming as being "a waste of time for boys" likening it to "40 year old men wearing green golfing pants".
I sent an email to the radio station asking for either a transcript or a recording of the show, so hopefully they can provide me with something. If they get back to me, I'll be updating this post with further information about their show.
Update:
My comment on Pia Shandel from CFUN Radio landed
an article on Kotaku
.
Link