Jan Pehechan-ho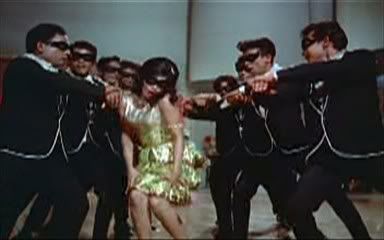 [
Media:
Music Video]
I've been watching this music video for the last couple of days, and I've decided that I adore it. Sung by Mohammed Rafi and appearing in the 1966 Indian film Gumnaam this Hawaian, Surfer dance number has an energy to it that's completely infectious. I'm not normally a fan of older music, let alone older music videos, but this is something really special if you can get into it.
A single women in a gold dress is surrounded by men in black tuxedos. Everyone dancing has a black Zorro-like mask, infact everyone in the entire building has a mask on including the audience. The dancers are completely wigging out and having a blast.
The music sounds like one of the songs from Kill Bill, and the black masks remind me of the gang from the movie. If anyone has seen Ghost World you might remember Enid is watching this video on TV while imitating the dancers on the screen.
This video is a fucking classic, I love it. You can download the video
here
, but make sure you read the article as well.
Link
(via
The Exploding Aardvark
)