John Cleese's Eulogy for Graham Chapman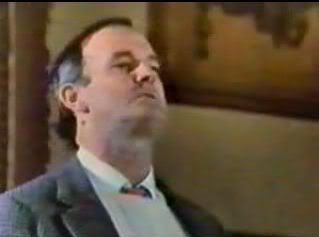 [
Media:
Video]
This is a video from 1989 when Graham Chapman, who was part of the Monty Python crew, died at the age of 48. What looked like an event slated to be a sad occasion turned into a wondrous happy sendoff to their friend.
John Cleese did what I think many people would hope for at their own funeral, he added humour and celebration to his friend's life. I think anyone who gets "Always Look on the Bright Side of Life" sung at their funeral, whether by the Monty Python crew or not, has led a great life. Yes, that's what I want done at my funeral.
Also, John Cleese said "Fuck" at his friend's funeral. A major accomplishment indeed.
Update:
I just realized that I've made three death related posts in the last two days. There is no subtext here, I am just posting at random.
Link