Mario Kart DS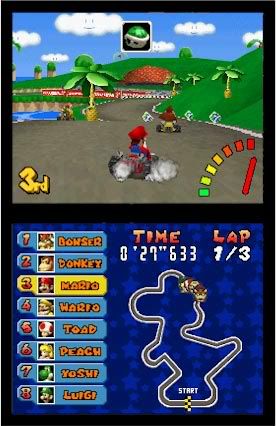 [
Media:
Website]
Although I bought Mario Kart DS last week, I was playing it on a borrowed DS until the one I had ordered came in. The DS came in today so I can finally post my Friend Code (
030128333092
) for Mario Kart. If anyone is interested in kicking my ass at Mario Kart, send me an email to let me know. We'll do the code exchange thing.
I am seriously loving the DS so far. It's pretty fantastic. My only complaint is that I want to meet up with some other people who have DSes and do a wireless LAN party, but I only know one other person who owns a DS locally. Perhaps sometime in the future I'll organize a DS club in Nanaimo.
In the meantime, you can check out this website DSMeet, which will allow you to find other people who want to play DS games locally. Unfortunately I'm the only person in Nanaimo to sign up so far. Boo.
Link
(via
Kotaku
)