Phil the Alien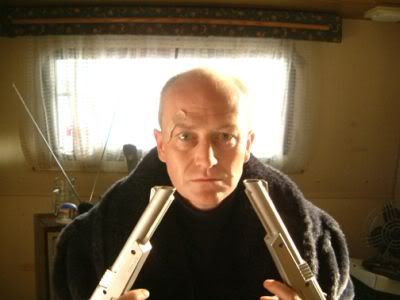 I saw the movie "Phil the Alien" last weekend largely due to the synopsis on the back cover.
When an alcoholic extraterrestrial living in a small Northern Ontario town finds God, his spiritual journey leads him on tour with a local bar band. Soon after crash landing in a remote Ontario town, innocent alien Phil strikes up a warm friendship with an open minded young boy and a remarkably intelligent beaver. A stranger in a strange land, Phil eventually begins to fit in by drinking plenty of hard liquor and jumping in on jam sessions with the local bar band.
The movie is a Canadian Comedy, which by definition means that it's really strange. Every once in a while I take a chance on movies which can either turn out to be fantastically brilliant, or downright awful. Phil the Alien turned out to be a lot of fun, it was strange, didn't take itself seriously and pretty funny.
But the main reason I wanted to point this movie out is the fact that the Secret Anti-Alien Agent (shown above), carried a pair of futuristic pistols on him. But wait, are those silver-painted NES Zappers in his hands? Why yes they are! I can't decide whether it's worse that the movie thought that nobody would notice, or the fact that all my friends
did
.