Valentines Day Gifts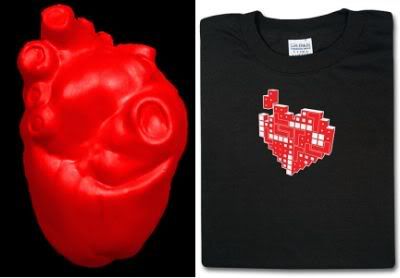 [
Media:
Swag]
My apologies for not updating more yesterday but Blogger was down for maintenance and I couldn't log in to write up another post or two. To make it up to you, I have a couple of suggestions of what
I
, I mean others, might want for Valentines Day.
This
Anatomically Correct Heart Shaped Soap
from FeMaledictions (I love that name) would be a fantastic way to tell your partner or friend that they should take more showers. I bet this soap turns the water red.
The
Heartris Shirt
on the otherhand carefully disguises your nerdy intentions instantly into pursuits of romantic endeavors.
Hearts are international love symbols, making this shirt - like a powerful pheromone - an unstoppable attractant.
Incidentally Valentines Day also happens to be my birthday. I'm a subtle one aren't I?