The Weekly Un-Postables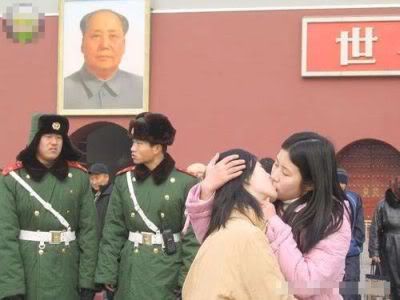 (Lesbians kiss in Tienanmen Square Under Guard)
I totally love this picture, the expressions on the two guards are just priceless. The guy on the left is like "Ewwwww, that is SO gross!" and the guy on the right is like "Dude! What should we do?"
One of the comments puts it into perspective.
China's 'one child' policy has led to sex-selective abortions, creating a shortage of marriagable females.
Miscellaneous:
Sarah Michelle Nude
(Not Safe For Work)
Le Papillon Mk 2
- Re translated for evil purposes
Fatal1ty Loses Challenge at CES
New Sega Game Being Released
Commodore 64 Being Re-Released
DS outselling PSP in Japan: chart
WE ARE SCIENTISTS: Great Escape
- Music Video
From Boing Boing:
Stabby martyr pencil-holder
What is your dangerous idea?
- A lengthy fascinating philosophical article among many great minds
Interview with inventor of LSD
Mouse burns down its killer's home