Yuriika: Wreckords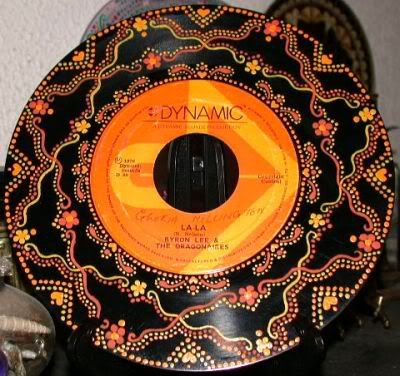 [
Media:
Website]
I love Yuriika's Wreckords works in which she takes outdated and unplayed Vinyl records and paints beautiful colours and patterns upon them. There is a fantastic photo gallery on her site which hosts a large number of pictures showing her records.
Why records? Currently, she paints on old vinyl for a few reasons. She feels its a good way to recycle old vinyl that has seemed to have lost its usefulness thanks to the invention of CDs and MP3s. Many people have records stashed away that they never listen to but can't let go for sentimental reasons...this is a perfect way to display them proudly once again. There are many beautiful and interesting labels.
This site reminds me of The Yeah Yeah Yeah's
"Fever To Tell" Painted Vinyl
. I know someone who owns that record, and I was immensely jealous of her.
Link