Freeform Five: Strangest Things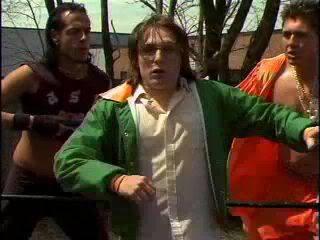 [
Media:
Music Video]
I love this music video by Freeform Five, it's one of those songs and videos which grow on you over time. For some reason, despite the violence, this video is quite endearing.
An awkward and nerdy looking teenager accidentally stumbles across a backyard wrestling match and gets dragged into it against his will. At first you feel sorry for the boy afterall he's getting totally wrecked by guys twice his size. But it looks that, by the end, he might be enjoying it more than he first appeared to.
It's almost as if the Backyard Wrestling is its own magical world. How cute.
Link
(via
Clip Tip
)