The IT Crowd: A Sysadmin Sitcom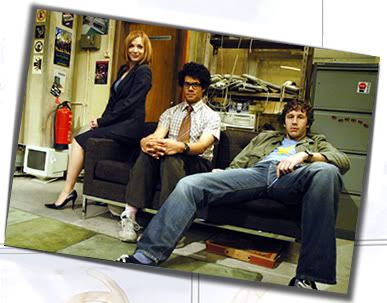 [
Media:
TV]
The IT Crowd is a new Sitcom about Sysadmins stuck in the basement of a large company, dealing with people who don't understand a thing about computers. In an interesting move Channel 4 UK has released the first two episodes online for free two weeks before the show is set to air on TV.
I've already seen the first episode and it's absolutely brilliant, and ultimately doomed to fail. There are just too many nerdy jokes here that I don't think it will gain mainstream appeal. I really really hope that I'm wrong about this one.
The basement also has a lot of nerdy elements like the Flying Spaghetti Monster on the wall, and the T-Shirt that says RTFM. If you're a dork, you're going to love this show. You can either download the episodes directly by following the link below, or you can download it using
Bit Torrent
.
Link
(via
Boing Boing
)