Turn Your Head: Custom Pirolettes From Your Profile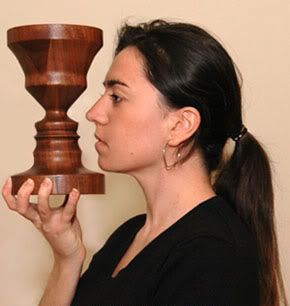 [
Media:
Website]
I'm sure you've seen those optical illusions which depending on how you look at it, you'll either see a cup or two faces. Turn your Head is a company which will create a Pirolette for you, based on your silhouette.
[W]e fill the space between two opposing profiles of your face. By spinning that space into a three dimensional "visage" that follows the outlined silhouettes of your two profiles, we create the "Pirolette".

Your profile captured forever in an object of art. An optical illusion of shadow and light, each one unique because it's you!
How fantastic is that?
Link
(via
Boing Boing
)