1 Year Anniversary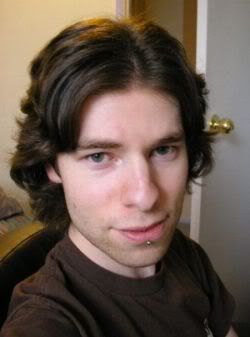 I almost completely forgot what day it was! Today is the 1 Year Anniversary of
I'm a Human Inbox
and the 175,395th visit. I really can't believe that I've been doing this for an entire year now. A couple of months ago I was almost considering dropping this site altogether, and I was planning on doing it on the 1 Year Anniversary just to be a jerk, but I still haven't gotten Blogging entirely out of my system yet.
The end of the school year is approaching and I'm finishing up my exams. Infact I should probably be doing my Calculus right now, but I felt I had to do
something
for this post.
So I'd like to thank all the people that have made this possible. Which is... Me really (don't worry Anne, I haven't forgotten that you've helped out a bit). I've also accomplished all the goals I set out to do with this site, which is fame, fortune and girls.
I've also rounded up a list of my top favorite 27 posts. It's 27 because I couldn't narrow it down any further, I just liked them all. So feel free to take a retrospective look at this site and I hope it brings a smile to your faces.
Update:
I've realized that some of the links didn't work properly so I've found working links and made the appropriate updates. Please let me know if you find any problems with these links.
The Ultimate Showdown of Ultimate Destiny
Loading Ready Run: We're 1337
The Chronic of Narnia Rap
The Touchtone Genius
SuperMonies: Vikings vs Monk
Alive in Joburg
Jan Pehechan-ho
Honda Civic: A Cappella
People Viewing Goatse For The First Time
Charlie the Unicorn
Un-Balancing
Matrix Table Tennis
Spasmodic
OK Go: A Million Ways
Best Moped Commercial Ever
Russian Dance Contest
Decorer, process of cheerful decoration
Real Life Tetris
Family Guy: Take on Me
End of the World
Voltron Gets Served
Spin: The Power of Music
Chinese Ice and Snow World
Dancing Matt
Chinese Dance Troup
That One Guy
Nutragrain Commercial