Israeli Military Girls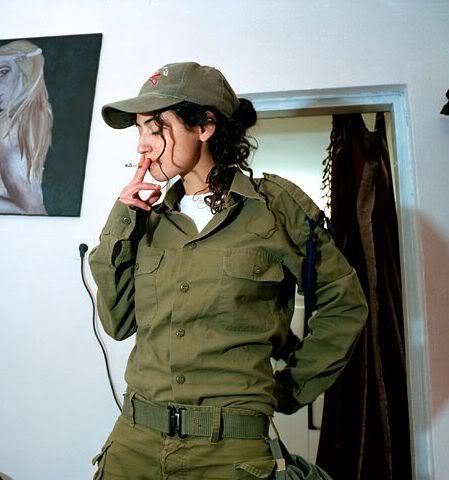 [
Media:
Images]
A couple of days ago I ran across this gallery of photos depicting Israeli girls in the military, and became totally engrossed. In Israel every girl who turns 18 must spend at least two years doing military service, which is something of a rarity compared to the rest of the world.
The images are quite striking, and they depict girls in a variety of situations reflecting their daily life in the military. For me, the most surreal image was of a girl in full military garb getting her groceries. It's also quite strange to see these girls carrying automatic weapons everywhere with them, including the shower room.
The photographer was a girl in the army herself and her statements really put these photos in perspective:
Rather than portraying the soldier as heroic, confident, or proud, my images disclose a complexity of emotions. The soldier is often caught in a transient moment of self-reflection, uncertainty, a break from her daily reality, as if questioning her own identity and state of contradiction. She is a soldier in uniform but at the same time she is a teenage girl who is trying to negotiate between these two extreme dimensions. She is in an army base surrounded by hundreds like her, but underneath the uniform there is an individual that wishes to be noticed.

...The girls I encountered were so immersed in this lifestyle, in their new reality, and completely divorced from the outside world. How could I explain to them that what they are doing means nothing in the outside world, yet will affect them for the rest of their lives?...
In the end these girls are just that, teenage girls in a harsh masculine environment. I feel slightly guilty when I find myself thinking how attractive most of these girls are. There's definitely something appealing about a girl in uniform, smoking and holding an automatic weapon.
Link
(via
Drasl
)