King Kukulele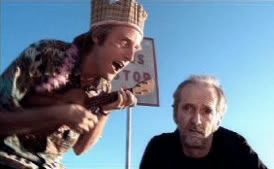 [
Media:
Video]
In what is going to be your daily dose of wacky randomness, this satellite radio commercial attempts to show how boring normal radio is by having a Ukulele player singing and dancing around. But let's be honest, who wouldn't want a hula-skirted man following them around playing the Ukulele? Alright, maybe I'm the only one.
The singer is the Ukulele musician,
King Kukulele
, who unfortunately has only one music video called "When I'm Alone". I'd love to hear more of his stuff.
Link
(via
Boing Boing
)