Rob Cordry Hates You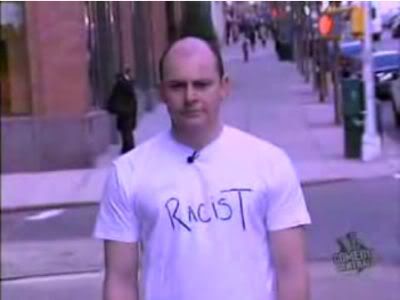 [
Media:
Video]
The Daily Show recently had a story about Rob Cordry's trouble being accepted as a racist, which at one point displayed a list of all the peopled he hated. The list was over 200 entries long, and scrolled by really quickly, but someone went to the trouble of writing
the entire list
down.
Cordry ended his report saying that "I'm a pretty decent guy, unless of course, you're one of these things. In which case I hate your guts.
Belgian
Mohawk Indian
Hindu
Mary Kate & Ashley
Puerto Rican
Gay
Bisexual
Lesbian
Bicurious
College Lesbian
Sunni
Seriously Stop Pausing This
What do you think this is Lost?
4 8 15 16 23 42
PT. Cruiser Owner
Nepalese
Boy Scout Troop 19
Canadian
So go check out the video, and then take a look at the list. Did you know that Rob Cordry even hates Jedi? I wonder if that means he's okay with the Sith?
Link