Valve: Portal Training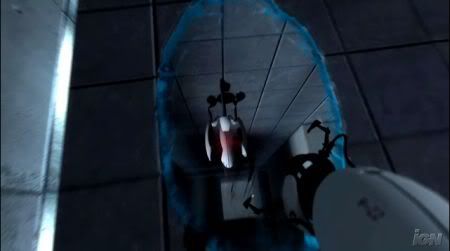 [
Media:
Video]
Some really interesting stuff has been coming out of Valve lately and now I finally have a bit of time to talk about it here. If you haven't seen Valve's Portal trailer I encourage you to do so by clicking the picture above. Portal is a puzzle game which uses a portal gun to solve a number of interesting spatial problems and it ships for free in Half-Life 2: Episode 2. The concepts and puzzles within Portal are complex for they deal with the ability to bend space itself.
Portal was developed by the team responsible for
Narbacular Drop
, a game which is free and was created earlier this year.
If you liked the trailer for Portal, I recommend that you check out 1up's
Episode 38
of the 1up Show. 1up discusses Portal, Narbacular Drop, Half-Life 2: Episode 2, Team Fortress 2 and
The Ship
. I'm personally very interested in The Ship and I'm curious to see how it turns out.
Link
(via
Joystiq
)